After last years World Cup in South Africa, African football has been largely ignored by Europe. So what did I do? I searched for someone I could talk to about football in Africa. In my search I found writer Samuel Eyinda from Kenya.
Kenya is a country more famous for long distance runners than football, but Samuel covers the beautiful game to ensure it has the publicity it deserves and has kindly taken some time to talk to me about football in his homeland.
Full Name:
Samuel Michael Jimmy Eyinda
Football Team Supported (Kenyan and Foreign):
AFC Leopards Fans Celebrate Their Teams Success
I'm a fan and supporter of AFC Leopards (All Football Club Leopards) otherwise know as 'INGWE' in Kenya. Elsewhere I'm a fan of Arsenal Football Club in England.
Could you please explain a bit about the history of football in Kenya?
Kenya is currently on a recovery from bad times in football. Soon after we had some of our best moments ever, complacency creeped in and together with politics and corruption our game was left bleeding. At some time the country actually had two parallel leagues running. This is however behind us. Much efforts have been redirected towards revamping soccer and even though the results are yet to reflect in the National team, the ever growing standards of the Kenyan league are a sign of good things to come.
Our football history is a tale that always generates lots of excitement. At club level, two clubs have almost over dominated the local football scene. AFC Leopards has won the National league a record 13 times while Gor-mahia has won it 12 times. Tusker FC(Formely Kenya breweries) has won the league 8 times While Ulinzi has won the league 4 times. The two teams dominated the regional football in the 70s and 80s, the same years that kenya had her best moments. Between 1977 and 1987 kenyan clubs won all
except one of the East and Central Africa club cups with AFC Leopards winning four(including three back to backs in 82, 83 and 84), Gor mahia won three, Luo Union won two while Kenya breweries(Currently Tusker FC) won once.
It is also within this period that kenya's national team won three successive CECAFA senior challenge cups 81, 82 and 83. The epitome of Kenya's quest to conquer the continent in football was in 1987 when the country hosted the 4th All African Games. At the tournament Kenya beat Tunisia 2-1, drew 3-3 with Cameroun, beat Madagascar 2-1 and then beat Malawi 3-2 in a penalty shootout. In the final, Kenya lost 1-0 to Egypt. The same year, Gor-mahia were crowned champions of the African cup winners cup, a feat no other team in east and central Africa had ever achieved. Tusker FC were later to make to the finals in 1994.
A worthwhile mention in kenyan football history is 1997 year that saw a brief revival of the fortunes of Kenyan soccer under coach Reinhard Fabisch. Fabisch assembled a youthful team whose average age was 22 years. The team played extremely well, winning against the likes of Gabon and Guinea while forcing draws away to Cameroun and at home to Nigeria. However politics and corruption had long taken over football in kenya and Fabish had to leave following misunderstanding with the Football association(KFF) over player allowances.
More kenyan football history is documented here
à
http://kenyapage.net/football/foot-hist.html
What is the top football club in Kenya and how do they compare to their counterparts in Europe and Africa?
Sofapaka players celebrate during their 4-0 success against Egyptian side Ismaily
I could be stoned back at home for not mentioning either AFC Leopards or Gor mahia despite their rich history and huge fanatical following. Making matters worse is the fact that I'm a trustee of CLAWS TRUST(Club of Leopards Active and Wise Supporters), a supporters trust for AFC Leopards.
However i would name SOFAPAKA as the top club in Kenya. They won the league title in 2009 while taking part for the first time(the only other team to achieve this is Gor-mahia in 1968). They have participated once in ACL and once in the CAF confederations Cup. The earlier resulted in a disastrous exit in the first round in 2010 courtesy of a 2-0 loss to Egyptian side Ismailia. However Sofapaka had their revenge in 2011 when the two sides met in the second round of the CAF confederations cup. Despite losing 2-0 away in Egypt, Sofapaka outclassed Ismailia in the return leg scoring 4 goals to end the match with an aggregate of 4-2. Sofapaka went on to lose 4-3 on aggregate(despite a 3-1 win at home) in the third round to Tunisian side 'Club Africaine'.
Sofapaka takes the honours mainly because of the proffessional way in which the team is run. The team also currently has some of the best players in the country and on many occassions provides four to five players to the national team. To sum it all up, sofapaka is currently home to Kenya's most successful and best qualified coach, Francis Kimanzi.
However, worthy mentioning when it comes running a team proffessionaly are two other teams Mathare United and Thika united.
Who would you say are the top 3 Kenyan players playing in the Domestic league? And
Erick Masika, the Gor mahia central defender will definitely lead the list. He is currently the best defender in Kenya and can easily be rated among the country's greatest of all times. He has an amazing pace and is a great leader on the field.
Moses Arita celebrates another goal for his club
Thika United striker Moses Arita will come in second. Currently the league's top scorer with 8 goals from 14 matches. He has a powerful shot and is very composed infront of goal.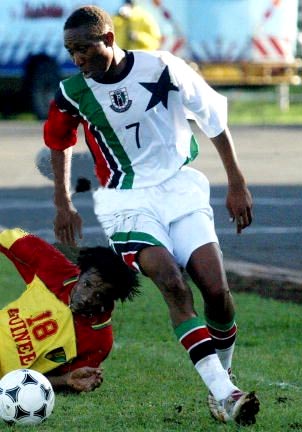 Titus Mulama Kenya's David Beckham?
Veteran Titus Mulama of Sofapaka. Class is permanent! That's all i can say about him.
Could you name 3 Kenyan U21 prospects for the future, what are their positions and attributes?
Edwin Lavatsa, 19 years old Gor-mahia forward. He has a never ending hunger for goals and is amazingly composed infront of goal with very excellent dribbling skills.
Youngster Ali Bhai will definately at one time find a place in Kenya's crowded midfield. His small body might deceive one to dismiss him but you got to love the way he holds on to the ball and controls the midfield of Kakamega based Western Stima.
16 years old, Enock Agwanda,the newly signed Sony Sugar forward. He came into the limelight in April during the inaugural KPL under-19 tournament Where he emerged top scorer helping the Sony Sugar Junior team clinch the Title. The young striker with a powerful left shot will no doubt light up the second leg of Kenya premier league and probably lift his side to higher grounds.
Could these three players play in Europe and do you see them moving in the future?
Yes, I'm confident that Lavatsa and Bhai will not stay long. Agwanda is however still a young boy and might stay on a little longer. However the efforts being put towards development of the local league could mean that in future, a player will only depart if the deal is extremely good.
Who do you consider to be the greatest Kenyan footballer ever? And why?
How many players can say they have a stamp dedicated to them?
Joe Kadenge; He was so legendary that football in Kenya was named after him. Great dribbling skills and vision. Just a mention of his name on the line up could assure his team's fans of victory.
Inter Milan player Mcdonald Mariga is possibly Kenya most well know export, can you see Kenya producing players of a similar standard to challenge the traditional African powerhouses like Ghana, Nigeria and Cameroon? And where does the Kenyan national stand in comparison to its neighbors?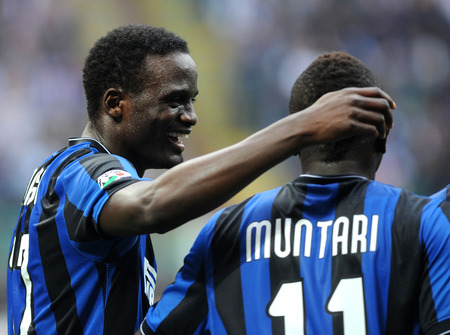 Mcdonald Mariga alongside fellow African export Sulley Muntari
Like our history will prove me right, Kenya has the potential of rising to the levels of the continent's power houses or even doing better. Currently our standards compared to the likes of Ghana and Cameroon are slightly on the lower side. On behalf of kenya's footballing community allow me to say that the world is yet to see our finest.
How do you feel about Kenyas prospects for qualifying for future World Cups?
Kenya President Mwai Kibaki, could this be the closest a Kenyan gets to the World Cup?
If the current momentum in restructuring of soccer in Kenya is sustained then the 2014 world cup might not be a long shot. I'm mainly banking my hopes on the steadily growing Kenyan league.
Which foreign team has had the biggest impact on domestic football in Kenya?
In terms of fanatical following It's a see saw between Arsenal and Manchester united. However i must really commend AC Milan. There children's tournament in Nairobi's Korogocho slums recently came to an end albeit with no much media focus.
Which European based player is the most popular in Kenya
?
Lionel Messi, then maybe Christiano Ronaldo.
How do you feel the World Cup 2010 being held in Africa has affected football in Africa??
Where do you think the Kenyan Domestic League football and the international team will be in ten years time?
Once again if the momentum is mentained then in 10 years we could be among the best leagues in Africa. Our league is currently ranked 7th best on the continent. Plus we have an ever growing population of foreign players coming in to be part of the league. Majority from Congo and quite a number from Naigeria, Tanzania, Uganda and Burundi. A 2014 world cup slot wont come as a suprise to me.
And finally please could you tell us a little about your website and your plans for the future in football?
Kenyanstar is all about highlighting the uncelebrated talents of Kenya. As the name suggests, we keep it strictly Kenyan. There is so much action that goes unnoticed and so much talent that goes to waste. We Currently our capacity doesn't allow us to do more beyond highlighting but we are on course for better things to come
Media wise, we are the sole content provider for a local weekly football newspaper called 'Pepeta'. PEPETA is a print media dedicated to reporting of Kenya premier league including but not limited to From coaches and players of all the 16 teams in the league on their views on both the previous and upcoming matches. It also includes pre-match and post match reviews of major league matches every week.
There is also a quarterly sports magazine called 'Kenyanstar' print version of the website that seeks to redefine Kenya sporting lifestyle. The first edition was released in may and the second one is coming up in September.
Finally still on media, besides our YouTube channel 'kenyanstar89'we will soon be running a sports TV show on smart TV's ASN channel. Talks on this are ongoing and we will give details to our readers once we are ready to run. The long run plan is to have a TV channel 100% dedicated to Kenyan sports.
Back to the community and in football to be specific, we are in talks with two local academies that we plan to use as our talent nurturing centers. We hope to adopt at least 4 young talents every year to get them out of either the streets or the village and assist them nature their talents while studying in conducive environments. This program is set to begin in 2012 and the success assessed over the next 5 years. The partnership with the said academies also extends to organizing bi-monthly sports development workshops for referees, players, coaches and team officials with the aim of uplifting the Kenyan game.
I would also like to mention that we do manage the Rangers FC website (www.rangersfc.co.ke) on a CSR basis. With 16 league matches played out of the maximum 30, Rangers are leading the league standing and we as Kenyanstar are proud to be associated with them. And finally as away of streaming down the Kenyan Premier league success to lower level Leagues, we have offered to sponsor the kenyan Nationwide league online portal beginning the 2012 season. Our offer includes incurring the cost of setting up a nationwide league website and managing the leagues media content free of charge for the 2012 and 2013 season.